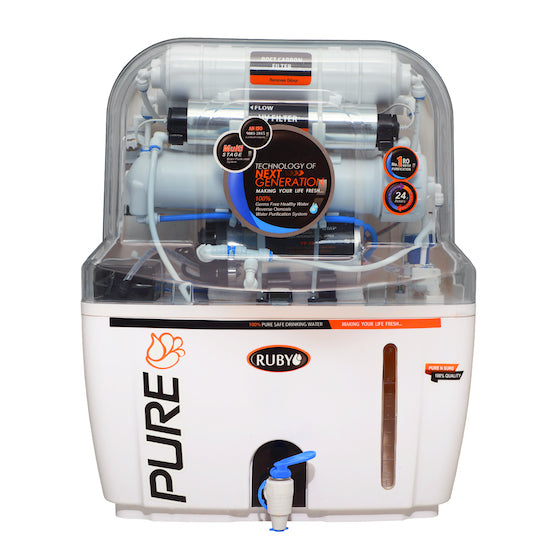 Roll over image to zoom in
Ruby Economical RO UV TDS controller Multi Stage Water Purifier
Very high-quality filters and very high-quality cabinets and high-quality electrical parts make this RO robust, sturdy, and durable. This RO consists of  Pre Filter, Sediment Filter, Carbon Filter, RO Membrane,...
Rs. 5,250.00 Rs. 12,500.00
Related products
Rs. 15,000.00
Rs. 25,000.00
Rs. 5,300.00
Rs. 12,500.00
Very high-quality filters and very high-quality cabinets and high-quality electrical parts make this RO robust, sturdy, and durable.
This RO consists of  Pre Filter, Sediment Filter, Carbon Filter, RO Membrane, Carbon with Copper, and Carbon with Silver impregnation to act like non-electrical UV and UF used for TDS adjustment.
Features & Details
Seven-stage filtration.
High-quality Gray color filters.
RO Membrane works up to 2000 PPM TDS. Suitable for Bore well, Tanker, and Municipal Water.
Copper & Silver both are there.
No Aluminum UV part, Silver impregnated Carbon does not allow bacteria to grow and works similar to UV.
12 Ltrs storage.
Elegant black look.
TDS adjustment through UF keeps mineral level as per requirement.
One year 100% warranty on everything electrical parts and filters as well.
______________________________________________________________________________
Filtration Stages
Sediment Pre-Filter
There are several different types of sediment cartridges. Melt Blown Polypropylene removes dirt, rust, and sediment particles down to 5 microns. These cartridges are washable and reusable for a particular period depending upon your water quality. 9″ inch spun / Pre-Filter candle is the most popular size for residential drinking water applications.
Inline Sediment Filter
Inline Sediment filters are designed to remove suspended solids, which are also known as sediment, turbidity, or particulate.  A sediment filter essentially functions like a net that catches unwanted dirt particles as your water flows through the system.
Activated Carbon Filter
Coconut Shell Carbon Block Cartridge(s), 10 Micron removes chlorine, taste, odor, and chemical contaminants. Activated carbon block filters typically have a 0.5 to 10-micron filtration capability, making them also helpful for particulate filtration, removing taste and odor from chlorine, and insoluble lead reduction.
R O membrane
The reverse Osmosis membrane is the finest purification system. At the heart of the RO water purifier is a Reverse Osmosis (semi-permeable) membrane having capillaries as small as 0.0001 microns that remove dissolved impurities (salts and heavy metals) and convert hard water to sweet and purer drinking water.
TDS Adjuster
A TDS (Total dissolved solids) controller, as the name suggests it is a device that helps in increasing the TDS level of the water coming out of the RO. The RO process reduces the TDS of the input water by approximately 95%. If inlet TDS is 300ppm then RO makes it 15ppm, which is not enough so using the TDS adjuster we can increase TDS to 50 ppm.
UF Filter
Ultra Filtration membrane can remove 90 – 95% of undissolved impurities. The UF membrane has a filtration fineness of 0.01 microns, which allows water to pass through while blocking pathogens and contaminants. UF  filter is used in the path of the TDS adjuster.
Electronic Parts
SMPS Adaptor
Adaptor Output Power: 24VDC 2.5Amp/Max 3.0 Amp, Line Regulation (±): 0.5%, Load Regulation (±): 1%, Ripple & Noise (mV p-p): 250 Features: Overload Protection over Temperature Protection Short Circuit Protection Soft Start Longer service life Current Capacity: 2.5, ampere. SMPS Converts AC voltage to  DC 24V.
Low-Pressure Switch
If inlet water is not sufficient or at very low pressure then this switch stops the function of RO.
Once the inlet water supply starts properly LPS allows RO to function normally.
LPS avoids a dry run of the booster pump.
Solenoid Valve
A solenoid valve is an electromechanical actuated valve to control the flow of water. The solenoid valve works as an electronic tap, it allows water to go ahead when the purifier is on and it stops water when the purifier is off.
100 GPD Booster Pump
The purpose of the reverse osmosis booster pump is to increase water pressure going into the RO unit. We use a 100 GPD RO Booster Pump for providing reliable inlet pressure for efficient membrane utilization. The offered booster pump is manufactured under the direction of skilled professionals utilizing quality raw materials in accordance to the set industry norms.
UV Filtration
Ultra Violet Filtration contains a set of 3 different aspects i.e. UV Chamber, UV Choke, and UV Tube. Ultraviolet water purification is the most effective method for disinfecting bacteria from the water. Ultra Violet rays cause immediate death for organisms and wipe out their ability to survive and reproduce. UV causes all possible destruction of bacteria and viruses.
Float Valve & Switch
Micro Switch & Float Valve in RO system used to control auto ON / OFF the system. As the water storage tank fills up with pure water float valve turns OFF RO. When the tank is empty float valve turns the purifier ON
Fitting Material
Inlet Valve
Inlet Valve is used for connecting your RO/UV water purifiers with a water tap inlet connector. It is made up of standard quality material with the help of advanced technology. It helps to on/off the water supply manually.
Quick Fitting Pipe
Quick fitting pipes are mostly used in advance RO water purifiers to make fittings fast easy and leak proof
Spanner
In RO water purifiers the first stage of purification is the Pre-sediment filter which is recommended to clean once in fortnight/month. Spanner is used to open the Pre-Filter bowl easily.
Teflon 
Teflon tape is used to make Inlet valve & tap fittings leakproof.
Specification
| | |
| --- | --- |
| Purification Technology | RO + UV +Mineralizer with TDS Controller |
| Purification Capacity | Up to 12 Ltr per hour. |
| Maximum Duty cycle | Up to 75 Ltr. per day. |
| Storage Tank Capacity | 12 Ltr.(approx) |
| RO Membrane | 75 GPD. |
| Purification Cartridges | Pre-Filter, Sediment Filter, Activated carbon filter, Reverse Osmosis Membrane, Mineral Cartridge, UV Disinfector. |
1) Customer has to inform on toll free or mobile when they receives the product.
2) We will arrange technician for installation of water purifier .Installation charges will be Up to Rs.500/- depend on location and these charges are to be paid by customer only.
3) Technician may reach to your place within 12 hr but depend on location it may take 72 hr.
4) Mobile Number of technician will be given to you by SMS only.
5) Your address and registered mobile Number will be given to technician also.
6) It is customer's duty to check whether installation is proper or not. Customer has to ask technician to show the TDS of pure water (Keep TDS between 30 to 70 ppm). Customer has to check for leakages and all before giving the installation charges.
7) For every visit customer has to pay the technician.
1) One year warranty on electrical parts, except UV Lamp. Warranty starts from date of dispatch.
2) Filters are consumables not covered in warranty, get blocked or choked because of water only. If water quality is good filters life will be more, If water quality is bad (More turbidity or more TDS) Filters life will be less.
3) Electrical part will be send through courier but technicians charge is to be pay by customer.
Cancellation:
You can cancel your order anytime before it has shipped, we will refund entire amount. In case you feel that the product received is not as shown on the site or as per your expectations, you must bring it to the Our notice within 8 hours of receiving the product.
Refund:
If you think, you have received the product in a bad condition or if the packaging is tampered with or damaged before delivery, please refuse to accept the package and return the package to the delivery person. Also, please email us at help.rubywatertech.com mentioning your Order ID. We will ensure that a brand new replacement is issued to you with no additional cost after receiving the product back . Please make sure that the original product tag and packing is intact when you send us the product back at your expense.
All refunds will be processed within 10 days of receiving returned product. It will remain the customers responsibility to return the product in unused condition. There should not be any signs of wear and tear on either the product or the box to be eligible for a refund.