Home
Best Sellers
Ruby P90 SMART technologically advanced Multi Stage RO+UV+UF+TDS water Purifier with very beautiful design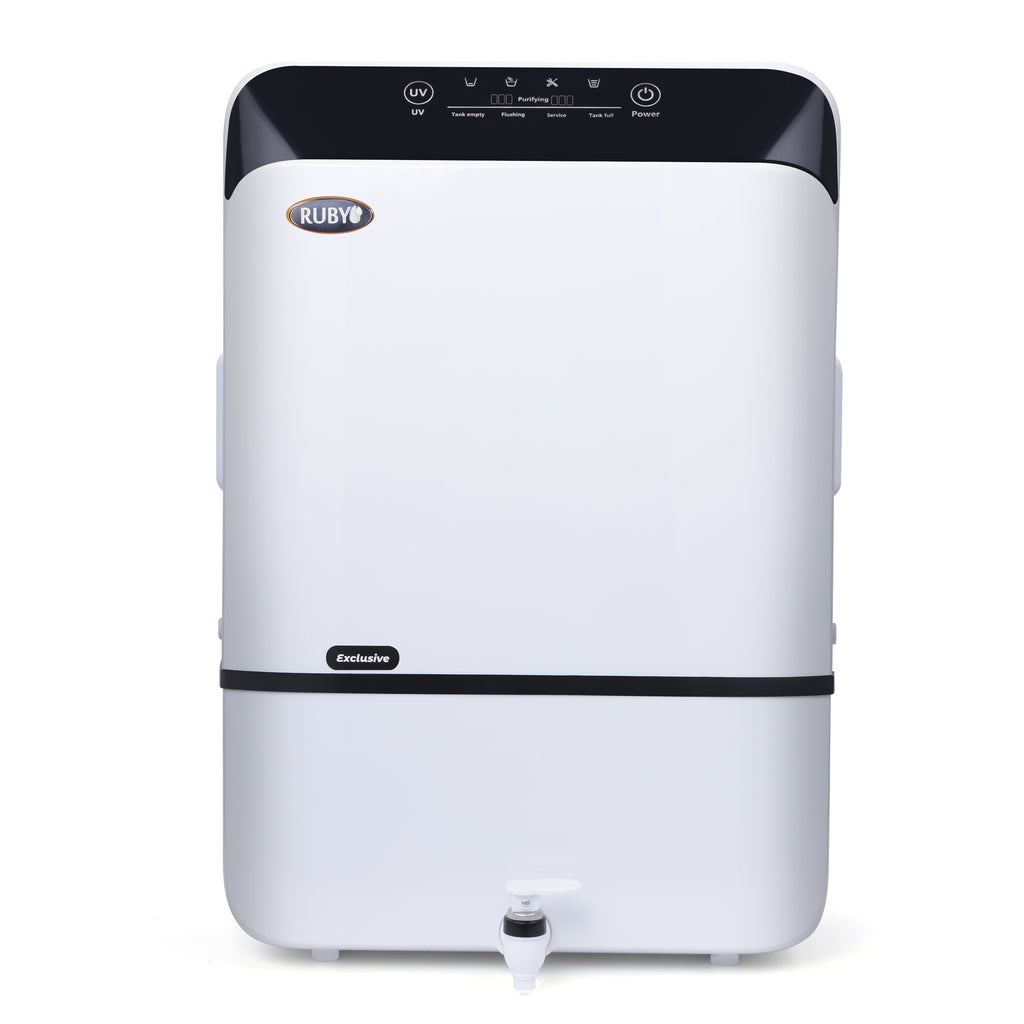 Roll over image to zoom in
Ruby P90 SMART technologically advanced Multi Stage RO+UV+UF+TDS water Purifier with very beautiful design
Now change your filter on your own. No technician is required. This RO is equipped with an easy change filter where you can easily replace the filter yourself by purchasing...
Rs. 15,000.00 Rs. 25,000.00
Related products
Rs. 5,300.00
Rs. 12,500.00
Rs. 5,250.00
Rs. 12,500.00
Now change your filter on your own. No technician is required. This RO is equipped with an easy change filter where you can easily replace the filter yourself by purchasing from our nearest dealer.
No prefilter is required. Means neat and clean fitting.
Sediment, carbon, RO, post carbon, UF, TDS control, UV.
Multi-stage purification gives you 100% purified water.
10 liters huge storage tank with drain nut and cockroach free fitting of the tank.
Features
This RO has a very high-quality sediment filter which can be easily replaced and does the work of prefilter as well. The installation is therefore very clean.
This RO is equipped with an intelligent display showing all the necessary details about the system.
Dual stage float for increased sensitivity and RO membrane flushing to improve membrane life.
Enhanced protection from UV rays.
This water purifier can be connected to the water and power source from both sides making the installation very neat and optimal.
The display is capable of showing when to change the filters.
The display is calibrated to tell all the faults that may arise in the water purifier.
The TDS of purified water can be adjusted using a TDS knob given.
This SMPS gives stable 24 V and steady 2.5 A current.
The pump gives a very strong and stable water pressure to the water purifier.
Provides the filter with a sturdy hanging platform. This helps to easily remove and fit the front cover.
This product is technologically advanced with a very beautiful design.
______________________________________________________________________________
Specification
Weight

9 Kgs

Flow Rate

Up to 20 liters per hour

Stages of Purification

Inline Sediment Filter.

Inline Carbon Filter.

RO Membrane.

Post Carbon.

TDS Adjustment using UF.

Membrane type

Thin film composite spiral wound membrane

Pump

Self-Suction Booster pump 24 V dc

Recovery

Up to 50%

TDS Rejection

95% (min)

Power Rating

48 W

Pressure Rating (Input water pressure)

10 – 30 PSI*

Rated Voltage

130 – 270 V a.c.

50 Hz.

Material of construction for filter housings and plastic parts

PP

Material of construction of Water Purifier Body

ABS Food Grade Plastic

Length of the power cord

1.5 m

TDS (Up to which membrane works)

2000 ppm
1) Customer has to inform on toll free or mobile when they receives the product.
2) We will arrange technician for installation of water purifier .Installation charges will be Up to Rs.500/- depend on location and these charges are to be paid by customer only.
3) Technician may reach to your place within 12 hr but depend on location it may take 72 hr.
4) Mobile Number of technician will be given to you by SMS only.
5) Your address and registered mobile Number will be given to technician also.
6) It is customer's duty to check whether installation is proper or not. Customer has to ask technician to show the TDS of pure water (Keep TDS between 30 to 70 ppm). Customer has to check for leakages and all before giving the installation charges.
7) For every visit customer has to pay the technician.
1) One year warranty on electrical parts, except UV Lamp. Warranty starts from date of dispatch.
2) Filters are consumables not covered in warranty, get blocked or choked because of water only. If water quality is good filters life will be more, If water quality is bad (More turbidity or more TDS) Filters life will be less.
3) Electrical part will be send through courier but technicians charge is to be pay by customer.
Cancellation:
You can cancel your order anytime before it has shipped, we will refund entire amount. In case you feel that the product received is not as shown on the site or as per your expectations, you must bring it to the Our notice within 8 hours of receiving the product.
Refund:
If you think, you have received the product in a bad condition or if the packaging is tampered with or damaged before delivery, please refuse to accept the package and return the package to the delivery person. Also, please email us at help.rubywatertech.com mentioning your Order ID. We will ensure that a brand new replacement is issued to you with no additional cost after receiving the product back . Please make sure that the original product tag and packing is intact when you send us the product back at your expense.
All refunds will be processed within 10 days of receiving returned product. It will remain the customers responsibility to return the product in unused condition. There should not be any signs of wear and tear on either the product or the box to be eligible for a refund.