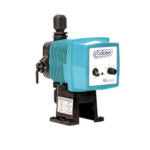 Roll over image to zoom in
Edose Dosing Pump
Rs. 200,000.00
1) Customer has to inform on toll free or mobile when they receives the product.
2) We will arrange technician for installation of water purifier .Installation charges will be Up to Rs.500/- depend on location and these charges are to be paid by customer only.
3) Technician may reach to your place within 12 hr but depend on location it may take 72 hr.
4) Mobile Number of technician will be given to you by SMS only.
5) Your address and registered mobile Number will be given to technician also.
6) It is customer's duty to check whether installation is proper or not. Customer has to ask technician to show the TDS of pure water (Keep TDS between 30 to 70 ppm). Customer has to check for leakages and all before giving the installation charges.
7) For every visit customer has to pay the technician.
1) One year warranty on electrical parts, except UV Lamp. Warranty starts from date of dispatch.
2) Filters are consumables not covered in warranty, get blocked or choked because of water only. If water quality is good filters life will be more, If water quality is bad (More turbidity or more TDS) Filters life will be less.
3) Electrical part will be send through courier but technicians charge is to be pay by customer.
Cancellation:
You can cancel your order anytime before it has shipped, we will refund entire amount. In case you feel that the product received is not as shown on the site or as per your expectations, you must bring it to the Our notice within 8 hours of receiving the product.
Refund:
If you think, you have received the product in a bad condition or if the packaging is tampered with or damaged before delivery, please refuse to accept the package and return the package to the delivery person. Also, please email us at help.rubywatertech.com mentioning your Order ID. We will ensure that a brand new replacement is issued to you with no additional cost after receiving the product back . Please make sure that the original product tag and packing is intact when you send us the product back at your expense.
All refunds will be processed within 10 days of receiving returned product. It will remain the customers responsibility to return the product in unused condition. There should not be any signs of wear and tear on either the product or the box to be eligible for a refund.